TAXI KAVALA
EUROTAXI KAVALA
High quality, safe and secure transport services!
Friendly service, experienced staff
---
EUROTAXI KAVALA has been operating in the city of Kavala since 1986. The company has a fleet of modern taxis and fully trained staff, and ever since it was founded it has been focused on repaying its customers' trust by providing them with excellent service.
EUROTAXI KAVALA is open 24 hours a day so it is always available to meet your needs and provide you with safe and secure travel anywhere in Kavala. Our vehicles meet all the strictest transport safety criteria, while our experienced taxi drivers are renowned for their exceptional professionalism. In this way, EUROTAXI KAVALA guarantees to transport you safely and on time to any destination in the city of Kavala. As part of our upgraded services, we also have a vehicle which has been specially designed to meet the needs of disabled people and which is also suitable for the severely disabled and can meet the most demanding mobility needs.
Trust in us for your travel needs - whatever your request! Our experienced, professional taxi drivers are always available and ready to respond immediately when you call us. EUROTAXI KAVALA provides speedy, comfortable and safe transport and also provides tours of the wider area of Kavala for those visiting the city!
Our history:
1986
We can see that there is a need amongst motorists and the local community in Kavala for a new dynamic in the taxi profession and for faster services with cheap and safe passenger transport. So, this leads to 69 taxi cars setting up Kavala radio taxis.
1989
In its first three years, the radio taxi network spreads and gains ground in the transport sector, with the result that 41 more cars are included in its fleet.
2003
As the project develops, circumstances change, and radio taxi Kavala sees the need to find new ways of organizing its transport project. The result is that radio taxi Kavala is turned into a cooperative and becomes the second member of EUROTAXI HELLAS.
2006
EUROTAXI KAVALA has 110 vehicles and can respond to changes in its working environment thanks to its strength as a member of the largest radio network in Greece.
EUROTAXI KAVALA offers you a plethora of options for sightseeing in areas close to Kavala and visits to archaeological sites, tourist attractions and entertainment venues!
ADVERTISE YOUR BUSINESS IN OUR TAXIS
Be the centre of attention… with creative advertising campaigns in our taxis! Raise your profile with thousands of potential customers with creative adverts. Our TAXIS can be a moving, double-sided advertising billboard which is on the move 24 hours a day!
---
3 easy steps:

---

Choose a taxi ›Choose where you want the advert to be positioned ›Decide how long you want your advert to run ›
Contact us and start advertising immediately!
Call a taxi in just a few seconds
Our app is easy to use. Just select your starting point and your destination and in just a few minutes a taxi will arrive at your door.
What does the app offer customers?
Easy booking for taxis
Control over the cost of the trip
Estimate of how far the trip is
Download the app now:
1
Step 1
Scan the QR code with the app you have installed on your mobile.
2
Step 2
Install the modern EUROTAXI KAVALA app free of charge on your mobile and create your own account!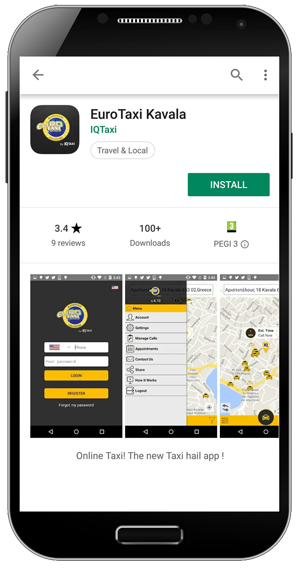 3
Step 3
Enter the address where you want the taxi to pick you up
4
Step 4
Enter the route details (final destination, number of passengers, etc.)